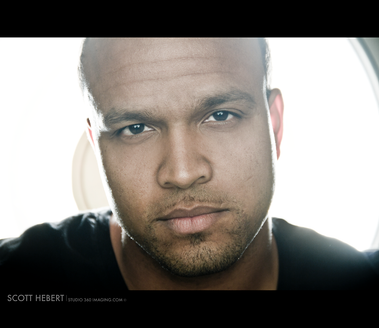 Scott Hebert's Biography

Scott Hebert, pronounced [ey-beR], has managed to go from a Louisiana country boy to one of the world's most sought after Creative Artists. His photography has been featured on over 100 ads, magazines and book covers with celebrities such as Tyler Perry, Forrest Whitaker, Gabrielle Union, T.I., Brandy, Tyrese Gibson and many more. Scott is constantly commissioned to shoot Internationally in destinations such as Paris, London, Tokyo, Africa, etc by some of the world's highest dignitaries and clients. His work has also been featured on television networks such as FOX, ABC, NBC, and he has been interviewed by E!, MTV, BET, Mas Que Bien and VH1 just to name a few. With over 15 years of experience, Scott's crossover into film production has landed him in movie theaters and television networks domestically and internationally.
Originally from Lake Charles, Louisiana, Scott Hebert, has spread his southern boy charm and talent internationally. While doing commercials, and modeling in Chicago as a teen, Scott fell in love with the camera. In 2002, his father gave him a professional camera that he purchased at a local pawnshop. Scott began shooting photographs of everyone he knew. After graduating from the Louisiana School for Math, Science and the Arts he attended Louisiana State University to pursue a career in Dentistry. Eventually he was photographing many of the people on campus. In 2004, while still attending LSU, Scott finally decided to get serious about his photography, and launched his own company under the name of Studio 360 Imaging. Baton Rouge could only contain him for so long. He made his move to Los Angeles in 2007 to finish his studies in Dentistry and continued expanding his work in photography. While surviving the many hardships in a city like Los Angeles may seem overwhelming to most, this young man took it all in stride. He went from barely getting one paid photo shoot a month to owning and operating the biggest minority owned Photography Company in Los Angeles. With over 40 people such as make-up artists, hair stylists, clothing designers/stylists, creative directors, runway coaches, graphic designers, web designers, etc. working under the STUDIO 360 IMAGING name, it is obvious that his company is ready for the future.

Not only is Scott a world-renowned photographer, he is an award-winning producer. He has produced and directed multiple music videos and a feature film that was in theaters titled "The Last Fall" starring Lance Gross & Nicole Beharie; the film was later released on DVD, Redbox, Netflix and HBO. Under his belt Scott also has DIOR as he directed a commercial in Paris for them summer 2013. He directed the trailer for a new feature film titled "Perspectives," and released a web series in Fall 2014 titled "Not Your Average Cyndirella" in which Scott wrote, produced and directed. Right now Scott is in pre-production for directing his first scary film shot in Louisiana, and has written a Latin American feature film titled "Esperanza" in which he will be Directing Winter of 2015.

Scott's other creative venture has led him to the world of fine art. His first fine art exhibition showcasing his photography series entitled "Beau" released in Paris, France in the Winter of 2015. This series presents Black and White imagery of African women. The purpose of this exhibit is to transform societies views on beauty and remove any misconception society still has on the standard of beauty. Scott is proud to share his work with the world while simultaneously shattering societies old-world views on beauty.

In addition to being a forward thinking artist, Scott also spends a portion of his time as a guest speaker. He has presented at various film festivals, photography seminars, student programs, high schools and universities. Most recently he spoke about independent film making and showcased one of his feature films at The Boutique Film festival in London, England. He is also a guest speaker at Hill Harper's "Manifest Your Destiny" program that aims to provide under-served youth with empowerment and educational enrichment through mentorship and enrichment programming. Scott draws inspiration from the students he encounters, while also encouraging each student to chase their dreams.

Amazing years for Scott. He truly shows his commitment, dedication and inspiration for art through travel and exploration. Despite being an expert in his field, Scott continues to find innovative ways to grow. With that, he's spent months in Paris to expand the scope of his knowledge in Parisian art, culture and the language. This desire to learn has now led Scott to over 30 countries including England, Italy, Turkey, Japan, Cameroon, Australia, Dominican Republic, Jamaica, Spain in search of even greater art forms to interconnect within his body of work. Learning and working around the world in many of his art forms has deemed Scott an International Artist. Scott relocated his headquarters to Houston, Texas and with the collaboration of his 2 brothers they formed STUDIO 360 PRODUCTIONS which is a full film and tv production company. Working with this brothers, the company has been able to shoot and film for some of Houston's top artist and entertainers. The start of a new Era was also the creation of the south's most creative fashion show series. He with his business partners created The Republiq which was the most forward thinking, innovative fashion show series Houston has ever seen. With Scott as the creative director, The Republiq shows were known to have fashion shows which showcased fireworks, camels, unicorns, ballerinas, harpists, violinists, aerialists and many more creative components which set it apart. With having differences in direction, Scott and his creative team left The Republiq and created THE DOMINION which is an entertainment support services company that includes: The Dominion Fashion Show, DH Magazine and more subsidiaries. He has created a company that thrives to push and help all creatives, with continuing to make Houston compete in the national and international scale. THE DOMINION is all about collaborating with other great people and companies to build Houston's creative community into of the strongest forces ever.
Scott sums up his philosophy with a favorite quote, "Dream - you can not depend on your eyes when your imagination is out of focus.